Beef Tapa Recipe (Tapa King)
One of my favorite beef tapa to order for delivery is the Tapa Queen of Tapa King. (I know that sounds weird but for non-Filipino readers but Tapa King is an All Day Breakfast Fast Food in the Philippines and one of their best sellers is the dish called Tapa Queen.)
Between the Queen and King, the runaway winner is the Queen and its not hard to understand why. A spicy, sweet, and garlicky piece of sirloin beef, plus fried rice and egg, it calls to the very essence of what a Pinoy breakfast is all about. A huge meal with all the flavors that we like -sweet, spicy, and sour to break the fast! Because for some reason, when we think of tapa, we automatically think of Tapsilog. When we think of Tapa, we think of Tapsilog. We think of home-cooked meals and comfort food, no-frills and no pretensions.
It started out as a trend, but now, all-day breakfast – the modern tapsihan is a popular alternative to the well-known burger chains. Slowly, it has become no longer just breakfast and the Tapsilog trio of Tapa, sinangag, and itlog, became an all-day meal for hungry Pinoys who wants a quick but satisfying dish.
The Filipino Tapa may be a family to the Spanish Tapa, which is a type of appetizer or snack and is usually served in small servings or "plate". Our tapa is slivers of cured meat, usually preserved in vinegar.
In the Southern Tagalog, tapa is the root word of "tinapahan" or smoked. This is what we do to preserve fish like tuna. With very little fire and lots of smoke from coconut husks, the fish (or meat) is slowly cooked until they are deemed fit for storage without getting bad. We also have the coconut meat smoker house which is called "tapahan".
I'm not sure how this is related to the beef tapa as we know now but I remember that we used to sun dry beef tapa after marinating. Though now, with the advent of new technology such as the refrigerator and ease of access to preservatives, we prepare the beef tapa recipe differently, I can only surmise that tapa means to preserve by smoking or drying.
So of course, since its not optimal to be always going out r having it delivered, we tried cooking this Beef Tapa Recipe Tapa King at home!
Beef Tapa Recipe -Tapa King
Ingredients:
1 kl beef (breakfast cut at Monterey)
3/4 c soy sauce
3 tbsp brown sugar
1 tbsp freshly ground black pepper
1 whole garlic, minced
1/4 cup Sweet and Spicy Vinegar Waykurat <<Important.
7 Thai chillies chopped and deseeded
Instructions for Beef Tapa Recipe Tapa King:
(If possible, beat beef with a mallet.) (For the more adventurous cooks, I found that cooking the beef in sous vide at 80 degrees F for 4-6 hours is an optimal way to soften the beef)
Put together all ingredients and marinate beef overnight.
Heat oil and pan fry in medium heat until sugar has caramelized slightly. (I remove most oil then add a bit of marinade after frying and let it cook so there's a bit of sauce but you can skip this process if you want it dry.)
Serve with a simple garlic fried rice or this Chao fan fried rice or this Curry Chicken Fried Rice or this Kimchi Fried Rice Recipe and sunny side up egg!
Notes:
Make this beef tapa into something like a beef jerky by drying this in the sun after marinating before frying. Great for snacking which is what the original tapa is supposed to be for, anyway!
The steps above require combining marinade and oil. The beef is boiled until the marinade evaporates – this makes it more tender. The remaining oil fries the beef which transforms it into a finger licking good snack, ulam, and even pulutan!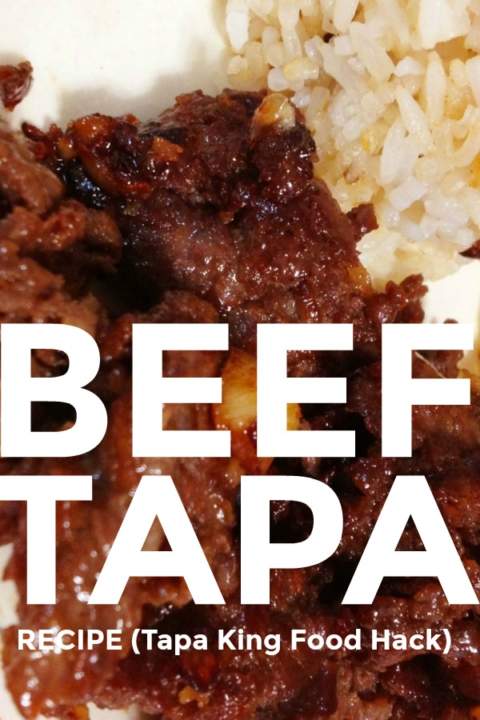 Want to save this Beef Tapa Recipe Tapa King to your Pinterest account? Pin the image above!