Whether you are a vegetarian or just a mom whose wanting to serve healthy recipes for your kids, this puso ng saging recipe and veggie burger is packed  with flavor and fiber and delivers. It's a unique Filipino veggie burger that you can eat with no guilt after eating. It can be a great healthy recipe for weight loss too!
Puso ng saging burger is something I grew up with in the province. My mother, who needed something cheap to make ends meet learned how to do this puso ng saging recipe. And it was a blessing too, because during those days, you can ask your neighbor for one or two Puso ng Saging and they'd be generous enough to throw in some bananas too.
These puso ng saging recipe is very kid friendly -we thought that were eating the real thing haha! It's delicious and healthy too! This is my mother's puso ng saging recipe.
Puso ng Saging Burger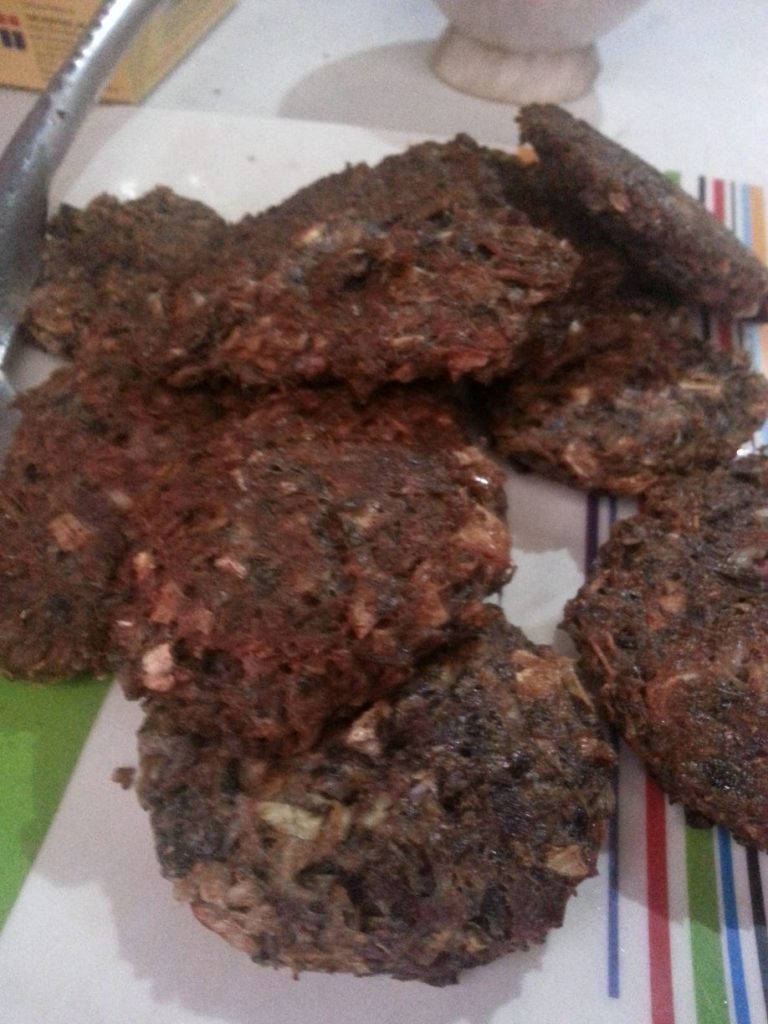 Prep Time: 15 min Cook Time: 13 min 
Ingredients
1 Banana blossoms. Make sure to use the Saba variety.
1/2 cup Flour
2 Egg beaten
Cooking Oil
1/4 tsp Black Pepper
1 tsp salt
1 whole garlic
1 whole Onion
1 TBSP Oyster Sauce
Instructions
Saute onions, garlic in oil. Add banana heart and cook thoroughly. Add oyster sauce and mix. Season with salt and pepper to taste. Let cool.

In a bowl, combine sauteed banana heart, flour and eggs. Mix well.

Form into uniform-sized patties using two spoonful of banana blossom mixture.

Heat about 2 tablespoons oil. Add banana patties one by one. Do not crowd them. Cook for about 2 to 3 minutes on each side or until golden and firm. Remove from pan and drain.
How to prepare puso ng saging
Remove the outer layer of the banana blossoms -the brownish violet part, until you get to the whitish and softer core. Cut out the stem. Cut it into half and slice very thinly. Soak the shredded banana blossoms in a bowl of cold salted water for about 15 to 20 minutes. (Note: I rub my hands with a bit of oil before I do the next part.) Drain the water and squeeze the banana blossoms to release the sap or "dagta". Rinse again and squeeze well to remove liquid.
Notes
* You can serve this on it's own with ketchup or Mang Tomas sauce. Or assemble as you would a burger.
* If you want to add meat, add flour and egg, and ¼ kilo of ground pork or beef.
Let me know what you think when you try this puso ng saging burger recipe! Tell me if you tried it! For me it tastes a bit like Good Burgers Burger. For me, it's the best Filipino veggie burger ever! <3