For an extra scary Halloween, Our menu for today is a putok batok pork recipe. It's my own version of Hongkong Style Roast Pork Belly, slow cooked to perfection, with a spine tingling melt in your mouth fat. Awooooo!
One of the very best things that got me addicted to the slow cooker is how meats become so tender and the fat feels like explosion of flavors in your mouth.
This slow cooked liempo (roast pork belly) is a no nonsense pork recipe, with no aspirations nor pretensions of being a healthy recipe.
Though it looks like you slaved the whole day for it, the slow cooker does most of the work while you browse Facebook and watch your favorite Kdrama show. It's a long and drawn out affair definitely. It takes about 2 days if you do leave it the refrigerator overnight for the drying process. Plus the slow cooking process and frying. Whew. Thankfully, you dont have to stand in front of it while cooking and most of the work is just preparation.
If you're in a rush, you can probably skip it or shorten it to 6 hours but drying helps with the flavoring and keeps the pork together during the slow cooking process.
I got the Liempo Recipe here but has adapted it for the slow cooker. Don't have a slow cooker yet? Read here why you should buy one! If you're a working mom, this is perfect for you. You can set it up in the morning and come home to a wonderfully smelling home with your dinner already cooked!
Slow Cooked Hongkong Style Roast Pork Belly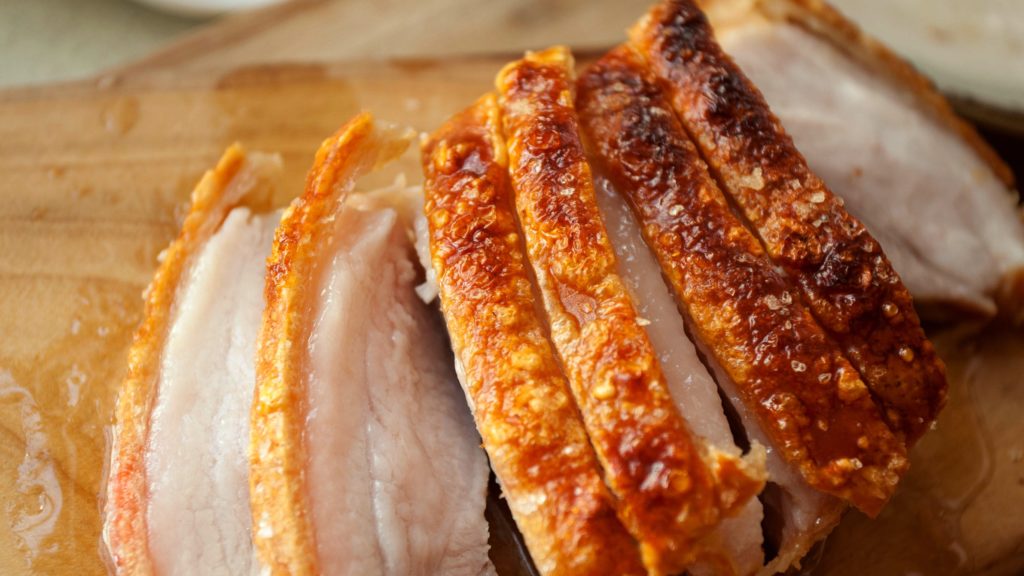 Ingredients
1 cup very hot water
3 tbsp salt
1 tbsp white sugar
1 kl pork belly
coarse sea salt (for the slow cooking part)
Seasoning
1 tbsp Shaoxing wine/Chinese Cooking wine –
2-2.5tsp salt –
1/2 tsp sugar
1/4 tsp Magic Sarap
1/2-1tsp  Five spice powder – I put 1 tsp
Instructions:
Clean your slab of pork belly thoroughly, making sure there are no remaining hairs.
Add in a pot the fill with water. Add salt and 3 laurel leaves.
Let it boil then time for 10 minutes after it began to bubble fiercely.
Drain and rise the pork. Pat dry with a towel.
Using a very pointed knife, poke the skin as many as possible so the skin will be crispy. Continue patting dry if there are remaining water.
Coat the rind and pork belly meat with cooking wine, then put together the rest of the seasoning.
Rub the seasonings around the meat but not the skin. (Only marinate the meat with the seasoning but not the skin)
Put the meat in the refrigerator to air dry for a day or until you're ready to cook.
Slow Cooking Step:
Wrap the pork belly with aluminum foil and place in a baking tray, make sure the height of the foil is 1 inch higher than the pork belly. Coat at least 1 inch thickness of coarse salt on the rind, this to make the water at the rind surface to evaporate to achieve crispy skin effect.
Put in slow cooker and turn it on high for 4 -6 hours.
Get rid of the salt.
Get a flat pan, add 2 tbsp oil and heat until smoking. Carefully put the pork belly skin down. Be careful of the splatter. The skin will crisp up in 2 -3 minutes.
(Or alternately, if you have a broiler, broil it for 10 – 15 minutes)
Let rest for 5 minutes and serve with rice!
Notes:
If you're aiming for an authentic feel, serve with Hoisin sauce. Otherwise, have a blast with Mang Tomas sauce. It's awesome!
Want to save this link? Pin the photo below so you dont forget!