Enjoy this Pinoy Pancake Recipe at home. This is an easy to cook merienda -so easy and quick to make. And frugal too. No need to buy a pancake mix! Cheaper in the long run especially if youre family is as carb hungry as mine. You can skip the bread and have this easy to cook merienda anytime!
So what's the difference between a pancake and a hotcake? If most of the online reads are right, nothing. It's just a difference in language.
But when I was in elementary, we used to make hotcakes for the canteen, slather margarine over them while it's hot, and then sprinkle it with sugar.
So I thought, when I grew up, that that's the difference between them. It's like a poor and rich version because hotcake has margarine and sugar, pancake has butter and syrup.
Now that I look at the recipes though, there's really not much difference to them. Because the pancake itself has the same ingredients. You can choose to put anything on it and they'd still be pancake or hotcake depending on you're preference of calling them.
Anyway, when I woke up today, I found my little one has wet herself and she's feeling really awful. I wanted to cheer her up and one of her favorite thing to eat in the morning is pancake. There's no Pancake Mix stock on my pantry so I just made this recipe. I'm not sure where I found this recipe. But it's been in my Evernote Recipe Notebook for a long time and I always come back to it whenever there's no Pancake mix in hand haha. (I know that's a bit backward but I really prefer the ease of making them with a mix).
Pinoy Pancake Recipe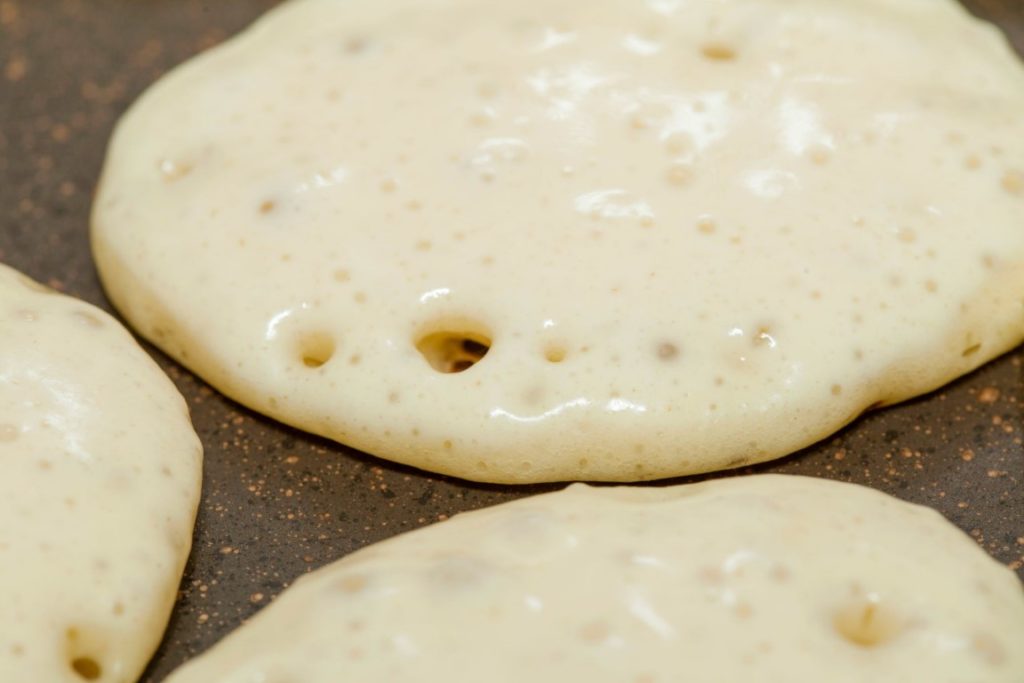 Ingredients:
1 1/2 cups All Purpose Maya Flour
3 1/2 tsp baking powder
1 tsp salt
1 tbsp white sugar (washed sugar is fine, don't sweat it)
1 tsp melted butter (I also had no butter in hand so I used 1 tbsp oil)
1 egg
1 1/4 cups milk (I used 3 tbsp Bear Brand powder reconstituted in water)
Instructions:
Mix the dry ingredients.
Follow with all the wet ingredients.
Mix thoroughly until smooth but not overmixed.
Heat your pan with a very small amount of oil and drop 1/2 cup or whatever size you desire.  Wait until sides are bubbly then you can turn it over. Count 1 -10 and it's cooked. Transfer to a plate and cook the rest of the batch.
Serve with whatever toppings you desire -butter, margarine, syrup, or sugar. Enjoy!
Notes:
You can make about 5 regular sized pancake with this pinoy pancake recipe.If you want it fluffier, add one egg. You can also just use water instead of milk if you want. There's not much difference I think, except of course, it's healthier to have milk. A no fail way of cooking it is to use very very low heat and just leave it for 2-3 minutes before turning over. That is if you have enough time and not so hungry troops!
Save this recipe on your Pinterest. Pin the image below!