How to cook Sinigang na Hipon
It's been a rainy couple of days and it's sooo cold! The first day, we were having fun and did a movie marathon for Halloween. But now, one of the kids is not feeling well, my ear ache is back, and the hubby's back pain is back with a vengeance. Everyone is on edge. Needless to say, any kind of sinigang is a welcome dish today.
Since it's a #Fridayfast and #nomeatfriday,  I decided to share this Sinigang na Hipon Recipe (Shrimp Sinigang Recipe) today.  The shrimp makes it extra special!
Nowadays, sinigang is very easy to cook with sinigang mix. When I was a kid, we had to use the real tamarind and we have this giant tamarind in our backyard. My mom would ask me to climb it to get the mature tamarind fruits, and we also use the very young tamarind leaves for the soup. It's not really different from this Shrimp Sinigang Recipe, except that the first step is to boil the tamarind and mash it after to remove the seeds. The remaining  fruit concentrate is then used  as the souring agent.
How to cook Sinigang na Hipon (Shrimp Sinigang Recipe)
Ingredients:
1 liter water
2 pcs medium tomatoes, cut into quarters
1 pc medium onion, cut into quarters
2 pcs siling pansigang (finger chili)
2 pcs gabi (taro), cut in quarters (optional)
1 pc small radish, sliced on an angle
1 small eggplant cut on angle
4 pcs sitaw, cut into 2 ½ inches
1/2 kg prawns, trimmed
1 pack Sinigang Mix small (22 gms) of your preference
2 bundles kangkong, leaves and tender stems picked
Instructions:
Bring water to boil and add tomatoes, gabi, onion and siling pansigang. Simmer for 15 minutes.
Add hard vegetables such as radish and sitaw and cook for 2 minutes.
Add shrimp and simmer until it turns pink/ orange (about 1+ minute). Do not over cook.
Add sinigang mix.
Add Kangkong and turn off heat.
Serve immediately.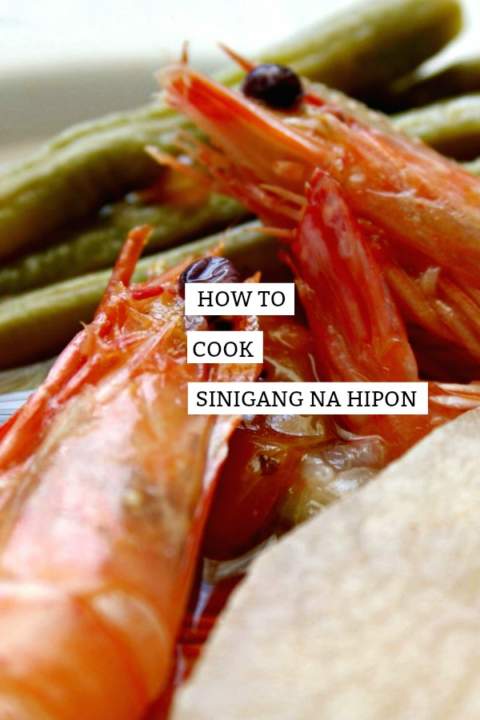 Looking for other ways to have sinigang aside from this shrimp sinigang recipe? I have the regular Pork Sinigang but we love Sinigang so much that we have it even in non soup form! Check out my Grilled Sinigang Pork Chops with Sinigang Mix Rub,  and even Sinigang Rice!