This Chicken in Sprite recipe is so Pinoy with a mix of salty, sour, sweet and spicy. Try something new in your kitchen today!
Once in a while, there would be a storm of food photos using the same recipe in the Philippine food groups with the #gayagaya tag. This is one of the recipes that hit us in the first quarter of 2017. It is a chicken recipe by Sir Ernesto Loro which was posted in another food group but I got in my favorite Ifoodala food group.
I cooked this using chicken quarters and thinking of cooking it again so I can take a picture of the whole thing with sauce. The kids were not able to eat this so next time I will remove the chilis. It's a great dish for dinner and also nice to pair with beer.
Try it today and let me know how it went!
Chicken in Sprite Recipe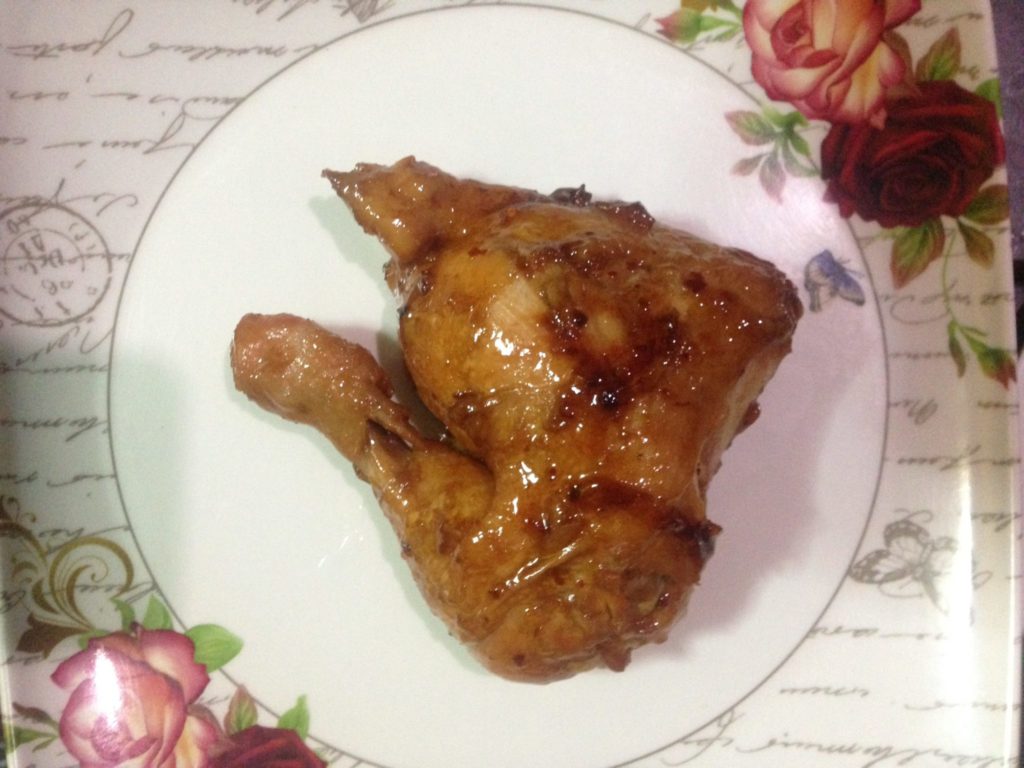 Ingredients
1 kg whole chicken (or cut up if you prefer)

1 500 ml Sprite or 7-UP

2 TBSP Reno Liver Spread
Rub
1 TBSP salt

1 TBSP Black Pepper ground

3 Calamansi
Stuffing
1 pc Onion Large. Quartered.

1 whole garlic Pressed

3 Chili Labuyo optional

3 leaves Laurel

1 bulb Lemongrass
Baste
4 TBSP Soy Sauce

3 TBSP Hot Chili Sauce

50 gms Butter optional

1 TBSP MSG optional

3 TBSP Ketchup
Instructions
Wash and clean dressed chicken

In bowl, mix salt, pepper and calamansi juice. Rub this mix to the whole chicken.

Arrange lemongrass, garlic, onion, laurel and chili inside the chicken cavity.

In another bowl, mix soy sauce, ketchup, and hot chili sauce. Use to brush chicken skin. Set aside for 10 -15 minutes.

In a deep pan, add 500 ML Sprite or 7-UP. Add chicken. Set to medium heat. When boiling, start timer to 60 minutes.

After 30 minutes, turn chicken over carefully so we will get an even color.

Leave the pot open for the remaining 20 minutes to see the liquid level. Turn the fire to low. Do not let the liquid dry up.

Remove chicken at about 55 minutes and add liver spread. Mix according to your preference. Add other aromatics if desired. Use as sauce for your chicken.

Serve with rice. Enjoy!