Bangus is probably one of the cheapest fish in the market here in the Philippines. And the baby bangus is even cheaper, you can get them for about P140 per kilo as opposed to any other fish that might be as high as P180 P280. That's why this fish is a mainstay in my weekly dinner menu.
And despite bones and all, we Pinoys love Bangus. It's tasty, flavorful, and who doesn't live for a slice of the most prized Bangus Belly?
So anyway, here's a bottled Bangus sardines recipe. You can use this recipe for selling. In the past couple of years, Bottled anything has been creeping up to our daily lives, probably because a lot of people (read: moms) are getting busier and is now open to opening a bottle for lunch. Most of these are labeled as gourmet or "artisanal" haha so there's less guilt. It's a good way to earn money for moms like us especially if you enjoy cooking and feeding people.
Food Sanitation Tips
One thing I'd tell you before you start making the Bangus Sardines is to make sure that every surface and equipment thoroughly cleaned first to ensure that your food is safe for consumption. Applying the proper sanitizer to clean food-contact surfaces reduces the number of harmful microorganisms to safe levels. You can do this by using a 25 PPM disinfecting solution. Mix 6ml of chlorine per 20 kg of water and disinfect your tools for 3-5 minutes.
Baby Bangus Sardines
Ingredients:
1/3 cup salt
3 cups water
300 -350 grams fish
2 cloves garlic
3 pcs onion (or shallots or native onions from La Union)
olive oil or corn oil (depends on your budget)
pickles  (I use whatever pickles I happen to have but those cute little whole pickles should make The Mayor happy)
carrots (sliced into rounds or if you're feeling creative, design like hearts or flowers <<but think of the hungry kids of Mindanao before you do so, we don't advocate food wastage!)
salt and black pepper
You will need:
Pressure cooker
Procedure:
Combine salt and water. Soak cleaned fish for 10 to 15 minutes and drain. ( we need to remove as much water as we can from the fish.)
In a bottle, add carrots, onions, garlic, and brined fish. Add oil and pickle relish. Season with salt and pepper. The oil should cover the ingredients. Add more oil if necessary. This will prevent molds in your sardines. 
Arrange your bottles in the pressure cooker. Put a "dikin" (a ring stand?) so that your bottles does not touch the bottom of the pressure cooker.  Sometimes I use 2 layers of the handy dandy baby Lampin (swaddling clothes) or a small towel. Fill water up to the middle-ish of your bottles.  Cook for 45 minutes to 1 hour.
Store submerge in oil in the sterilized bottles until ready to eat.
#ProTip Price your products accordingly. The basic formula is this: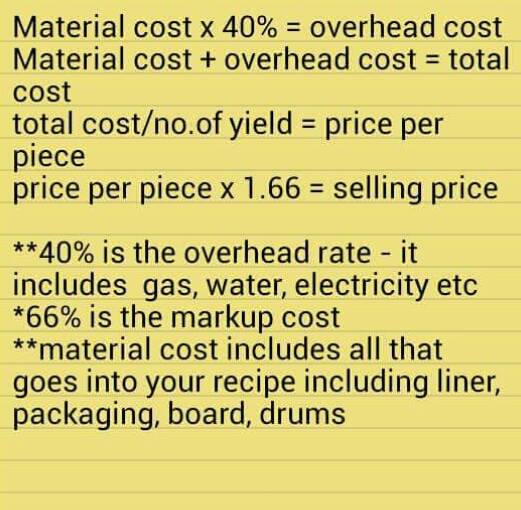 Note: This recipe is a gateway recipe to making your own sardines recipe and create your own version. You can add chili, capers, or olives, the more sosyal, the better. You can use other fish like Tunsoy or Tawilis, or who knows, try salmon, haha! I also have a slow cooked version here:  Slow Cooked Spanish Style Adobong Bangus Sardines
This recipe is from  Chef Mira Angeles, @miralovestocook of the Spell Kitchen presented on #TheMayaKitchen Gourmet in a Bottle hands on course.
I'd love to see what you come up with. Share your finished product with me and I will share it on our FB page!